Daily Archives:
Monday, 22:06, July 2, 2012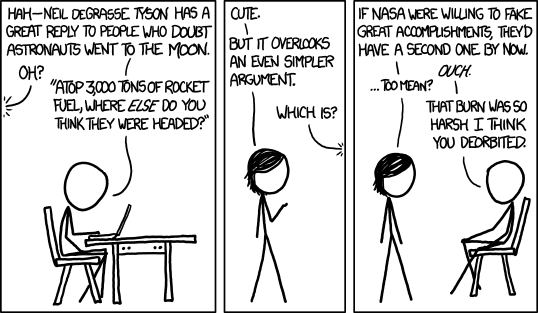 This work is licensed under a Creative Commons Attribution-NonCommercial 2.5 License.
This means you're free to copy and share these comics (but not to sell them). More details.
To me, it would be the height of intellectual bigotry to reject a claim, however extraordinary, without looking at the reasoning and evidence for it, simply on the assumption that I did not experience it myself. I do not close myself off to anything, especially that not already demonstrated to be impossible by those better qualified than myself in the appropriate area, and I'm fully aware how seemingly compelling, powerful, and profound personal experience can be, so I see no reason to dismiss it out of hand.
Our most fundamental nature can be radically altered, transformed, by what we experience. To mistrust experience entirely would put us down the path of rejecting it as fatally, irrevocably flawed, and to reject most of what we have good reason to think we know of the world, especially if it's the experience of others, the very meaning of closed-minded.
Must I deny [1] the existence of the Eiffel Tower because I've never even set foot in Paris once in my life to see it for myself? Must I reject the reality of [2] the Great Wall of China because I've never witnessed it firsthand? Do I dismiss [3] the existence of UFOs or psychic phenomena because such things are alien to my experience? Do I believe that [4] 95% of the universe doesn't exist because I've never directly seen Dark Matter and Dark Energy?
To all of these my answer must be an unequivocal NO. Suggesting that any of these are the case is simply absurd, ignores indirect evidence readily available from countless sources, and for [1], [2] & [4] requires implausible claims of world-wide conspiracies of evidence-faking going on for centuries to even consider.
As for [3], I've seen what I thought to be UFOs and strange, seemingly psychic coincidences as a child growing up in my home town, though I know more about what I've experienced then that I no longer interpret either of these things as paranormal, having learned of night-flying advertising blimps and the statistical Law of Large Numbers since that time.
But hopefully more than just that…
Much of what we know we learn from experience, firsthand sensory data filtered through our consciousness, and secondhand data from what we read and hear others say.
Sense data is only once source of input for our thinking, since you can't process without something to process, and other possibilities include alleged revelations and intuitions, which have their own limits as well as rivals to any claims based on them.
But mostly, we learn from experience, and it's a good thing we do, or we'd never learn much at all.
However, experience can also be powerfully, compellingly and profoundly misleading too, sending us on a merry chase to misunderstanding if we aren't careful and mind the clarity of our thinking about the input we receive.
We are subject, unavoidably, to cognitive illusions, to bias, even the smartest and most objective of us.
We are subject to sensory illusions, when our brains try to process ambiguous stimuli, with no mischief aforethought, what we see, hear, taste, smell and feel, not to mention those ordinary senses beyond just the basic five, like our body's kinesthetic sense, sense of pain, and sense of heat and cold.
We are also subject, under certain conditions we may not even be aware of, and even the sanest and most sober of us, to hallucinations of things which simply do not exist.
We are subject to the fact that our view of reality, our qualia, is a picture constructed in our heads by our brains processing sense data into a narrative that seems accurate but is a necessarily incomplete collage patched together from our surroundings piecemeal.
It is a useful, but limited representation of the world as we subjectively see it, hardly exact even with the highest amount of due care taken. We do not and cannot see reality exactly as it is.
We are subject to not properly encoding memories to recall at all, subject to mistakenly recalling them, and subject to distortions of and false memories under certain conditions.
We are subject to misinterpreting what we perceive, when our perceptions are colored by emotion, expectation, bias, and prior beliefs.
We are subject to mistakenly relating our experiences through imprecise use of language, a limited vocabulary or improper syntax, simply not accurately describing our experiences to those we tell of them.
But while our experience is often deeply flawed, it is still crucial to our ability to learn, and we wouldn't get very far at all in a search for knowledge without it, aided by our tools, instruments and the methods of science, to extend its range, accuracy and power.
As fallible as it is, we can offset the limits of experience that as humans we are all liable, and work our way around them, to mind our own biases, minding the validity or strength and the soundness or cogency of our reasoning, to consider the possibility of being swayed by emotions and when we are able, control them, to come to a better, more reliable, and above all, useful understanding of the world and ourselves, using experience and reason working together.
This is a task which requires no small intellectual effort, humility and honesty to implement, but which when done well and effectively pays off handsomely in the end.
(Last Update: 2012/07/01/1:46 AM – Grammatical Error Corrected)