It's good to be back to blogging. After a week without it, I got a lot more done on my schedule than I otherwise might. I ended the social media part of my break just this last Thursday, a couple of days early, I know, but necessary to keep from isolating myself socially while otherwise alone with family and cats.
The appointment this Wednesday went well, and I'll be going back in two months rather than just one. That's a good thing. I've worked out a couple of further posting changes to this site. The installments 'Fractals of the Week' and 'Wordless Wotan's Day' will be posted, alternately or both, on Wednesday, freeing me to more officially join The True Book Addict for Cat Thursday.
I'm bringing back Friga's Day Fiction, and will be picking up where I left off on the unfinished storyline of ninja Sergei Romanova's solo adventures. Afterward, the installment will feature my current character for a different campaign setting, neurosurgeon, military veteran, and paranormal investigator Frankie Novella.
I've completed the Tools of Thinking series of lectures, and am now viewing a series of 36 half-hour lectures on political theory and its practice across history, from ancient to modern times. All considered it's quite good. The lecturer is Professor Lawrence Cahoone, and he's been instrumental in debunking a few myths I've been harboring. That doesn't happen as often as I'd like, but it's good when it does!
Now that I'm back to blogging, I'm already bookmarking and scheduling material for most of my blogs, including my non-WordPress sites. I'll use written posts where necessary, including this Monday's "Indra's Pearls" ongoing review series on the Algorithm, and may mix things up a bit between written and video posts.
Here is the link to my new hub page for all my sites, The Unspeakable Blogs: a hub for eldritch websites. It will be posted also to my social media outlets.
I also decided to reinstall Talking Tom, as an assist as a learning tool to increase the desirable difficulty level of my study sessions, interleaved with the material being studied with both actual and virtual flashcards. Should be cool. Let's see how far I get with this…
As I posted not once on any of my blogs after last Sunday, I'm instead featuring The Other Blogs posted during last week, news items and weird things, and a video by Weird Al Yankovic with delightfully skeptical topic matter, below. So, on with the Roundup, and may you all have a fantastic week ahead!
The Other Blogs
The Odd, the Gnuz & the Sciencey
xkcd: Actors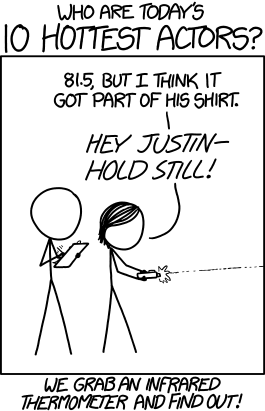 Weekly Blog Stats: This Site & Linked Venues:
See this blog's About page for Monthly Stats.
Posts Currently Published: 2230
Weekly Pageviews: 167
Total Pageviews: 146,999
Comments Approved: 2210
Facebook Page Likes: 30
WordPress & Email Subscribers: 246
Tumblr Fellows: 601
Twitter Fellows: 2175
"Weird Al" Yankovic: FOIL